TODAY'S HEADLINES (click to jump there; use your browser's "Back" button to return here)
•
Terrorist Attack on Pittsburgh Synagogue
•
CNN, Cook Political Report Update House Ratings, Mostly in Democrats' Direction
•
Keith Ellison Is Flailing
•
Gas Tax Hail Mary Is Falling Flat for California GOP
•
This Week's Senate News
•
Democratic Presidential Candidate of the Week: Terry McAuliffe
On Thursday, law enforcement arrested Gregory Bush, who tried to shoot up a black church, couldn't get in, and so moved onto a Kroger grocery store and killed two black patrons in cold blood while pointedly sparing a white patron. On Friday, it was Cesar Sayoc, who was charged with sending mail bombs to a bunch of folks who just so happen to be targets of Donald Trump's criticism. And on Saturday, it was Robert Bowers, who entered a Pittsburgh synagogue on Saturday and, amid a torrent of anti-Semitic hate speech, went on a rampage that left 11 people dead from gunshot wounds.
That marks three days in a row, then, that an angry, middle-aged man committed a violent crime that certainly appears to have been encouraged, in part, by Donald Trump's decision to turn the bully pulpit into a bully's pulpit. In Bowers' case, he claimed on Gab (aka, the alt-right Facebook) that he did not vote for Trump because the President is too much of a globalist, and not enough of a nationalist. However, he did embrace much of the Donald's rhetoric. Further, what spurred Bowers to take violent action was his belief that Jewish folks—specifically the Hebrew Immigrant Aid Society, which gives aid to refugees—were plotting to sneak the caravan of immigrants from Central America into the United States. "HIAS likes to bring invaders in that kill our people," Bowers wrote on Gab just hours before the shootings. "I can't sit by and watch my people get slaughtered. Screw your optics, I'm going in." Trump, of course, has spent weeks trying to drum up fear and anger centered on the caravan.
And as to Trump, it's pop quiz time. Guess which of these was his response to the shooting:
"We should stiffen up our laws in terms of the death penalty."
"It looks definitely like it's an anti-Semitic crime."
"If there was an armed guard inside the temple, they would have been able to stop him."
"You wouldn't think this would be possible in this day and age, but we just don't seem to learn from the past."
It is, as you might have guessed, a trick question. He said all of these things, which means that he opined, with a straight face, that churches really ought to arm themselves. The fourth point is actually a very good one, although at the same time rather tone deaf, since certain members of "we" have an unusually difficult time learning from our past mistakes and not repeating them.
There was also some suggestion that Trump should cancel the rally he had planned for Illinois on Saturday night, but he was having none of it. And at the rally, he once again said the right things, just as he did at the rally after Sayoc was arrested. On Saturday, it was:
This was a rough, rough day for all of us. This evil anti-Semitic attack is an assault on all of us. It's an assault on humanity. It will require all of us working together to extract the hateful poison of anti-Semitism from the world. The scourge of anti-Semitism cannot be ignored, cannot be tolerated and cannot be allowed to continue.
The problem, as always, is that he doesn't mean any of it. It's true that politicians often say what they think they have to say, even if they don't mean it. But most of them, at least, offer up their "thoughts and prayers" (or whatever other empty rhetoric) and then wait a day or two before going back to talking about how important gun rights are, and how we can't ban bump stocks, and the like. In Trump's case, within 15 minutes of lamenting violence and anti-Semitism, he was back to slurring Maxine Waters, and "Pocahontas," and the media, and watching approvingly while the crowd chanted "lock her up" after he took a few potshots at Hillary Clinton.
We remain somewhat skeptical that Trump and the GOP will pay any price for the violence that he has fomented, and the rather crass manner in which he has responded afterwards. However, with so many incidents in close proximity to one another (and, frankly, with so very much crassness), maybe it will drag a few extra anti-Trump voters to the polls. (Z)
The nonpartisan Cook Political Report has been doing seat-by-seat House projections for years, and is the gold standard in this type of analysis. CNN is a newcomer to the party, and has only gotten serious about seat-by-seat projections this year. Nonetheless, both see similar things going on this week, namely that the Democrats' enthusiasm gap is fading a little, and Donald Trump's popularity is improving a little. Despite these things, both outlets see most of the momentum this week headed in the blue team's direction.
First, Cook's latest:
| | | | | |
| --- | --- | --- | --- | --- |
| District | PVI | Member | Old rating | New rating |
| AK-AL | R+9 | Don Young (R) | Likely Republican | Lean Republican |
| AZ-08 | R+13 | Debbie Lesko (R) | Solid Republican | Lean Republican |
| FL-06 | R+7 | Open (Ron DeSantis, R, is running for governor) | Lean Republican | Toss-Up |
| FL-15 | R+6 | Open (Dennis Ross, R, is retiring) | Lean Republican | Toss-Up |
| FL-27 | D+5 | Open (Ileana Ros-Lehtinen, R, is retiring) | Lean Republican | Toss-Up |
| IL-12 | R+5 | Mike Bost (R) | Toss-Up | Lean Republican |
| NY-23 | R+6 | Tom Reed (R) | Solid Republican | Likely Republican |
| OK-05 | R+10 | Steve Russell (R) | Solid Republican | Likely Republican |
| TX-22 | R+10 | Pete Olson (R) | Likely Republican | Lean Republican |
| TX-31 | R+10 | John Carter (R) | Lean Republican | Likely Republican |
That's a total of eight seats moving in the Democrats' direction and two in the Republicans' direction. Overall, Cook has 182 safe seats for the Democrats, and only three of their seats in danger, compared to 142 safe seats for the GOP, and 46 of their seats in danger.
And now, CNN's latest:
| | | | | |
| --- | --- | --- | --- | --- |
| District | PVI | Member | Old rating | New rating |
| AZ-02 | R+1 | Open (Martha McSally, R, is running for U.S. Senate) | Lean Democratic | Likely Democratic |
| IL-13 | R+3 | Rodney Davis (R) | Likely Republican | Lean Republican |
| FL-15 | R+6 | Open (Dennis Ross, R, is retiring) | Likely Republican | Toss-Up |
| FL-18 | R+5 | Brian Mast (R) | Likely Republican | Lean Republican |
| MN-08 | R+4 | Open (Rick Nolan, D, is retiring) | Toss-Up | Lean Republican |
| NM-02 | R+6 | Open (Steve Pearce, R, is retiring) | Lean Republican | Toss-Up |
| OH-01 | R+5 | Steve Chabot (R) | Toss-Up | Lean Republican |
| OH-12 | R+7 | Troy Balderson (R) | Lean Republican | Toss-Up |
| PA-01 | R+1 | Brian Fitzpatrick (R) | Lean Republican | Toss-Up |
| VA-05 | R+6 | Open (Tom Garrett, R, is retiring) | Likely Republican | Lean Republican |
| WA-03 | R+4 | Jaime Herrera Beutler (R) | Likely Republican | Lean Republican |
That's a total of nine seats moving in the Democrats' direction and two in the Republicans' direction. Overall, CNN has 187 safe seats for the Democrats, and six of their seats in danger, compared to 153 safe seats for the GOP, and 59 of their seats in danger.
The consensus remains firm, then, that the blue team is likely to reclaim the House. It would appear that, regardless of any public pronouncements they might make, the White House is also bracing for that development. Political Director Bill Stepien wrote a memo that was for eyes of senior staffers only. Naturally, it was quickly leaked to Politico. "House Republicans' goal this year is to minimize their losses," he admitted, while explaining that the job of White House staffers is to deflect blame for that from the President, while also setting him up to take credit for any GOP gains in the Senate. How a president can have a positive impact on one chamber and a negative impact on the other is anyone's guess. Must be the new math. (Z)
Rep. Keith Ellison (DFL-MN) was, not long ago, among the more prominent Democratic standard-bearers in America. A darling of progressives, he made a serious run at the DNC Chair's seat before losing to Tom Perez and being appointed the Party's #2 pooh-bah. Then, he decided to leave Congress and take a shot at the Minnesota attorney generalship. That would generally be considered a step down, but being AG in a blue state presents a chance to become a leader of the Trump resistance, and so to be much more high-profile than one of 400+ members of Congress.
Things started unraveling days before the Minnesota primary, when Ellison was accused of physically abusing his ex-girlfriend (by her son). That's hearsay, there has yet to be any direct proof (or confirmation by the ex-girlfriend), and an investigation concluded the accusation was "unsubstantiated." Still, Ellison's opponent, state legislator Doug Wardlow (R), sensed that this was his opening. So, he has hammered the Congressman with the accusation, over and over. It's working; the latest poll has Ellison down by 7 points, even though 56% of respondents say they don't know who Wardlow is. That is very bad, obviously. And so, it looks like the Gopher State is about to elect its first Republican AG in 40 years, while Donald Trump is going to avoid a big thorn in his side, and Ellison's once-promising career may be nearing its end. On the other hand, New York AG candidate Letitia James (D) is leading her Republican opponent by double digits, and she has vowed to prosecute any crimes Trump may have committed in New York state, so the President is not out of the woods even if Ellison goes down. (Z)
The system by which propositions are added to the ballot in California is a little wonky, and is open to exploitation by folks who have a couple of million dollars to burn gathering signatures. The state GOP decided that this was their chance to keep Election Day from being truly ghastly. And so, they cooked up Proposition 6, which would repeal the state's gas tax (which is used to pay for infrastructure improvements). The motivation was not the tax, per se, but instead to get anti-tax Republicans to the polls. It's a variant of the "gay marriage" ballot propositions used to great effect by George W. Bush elections guru Karl Rove.
The problem for the Republicans is that it's not working. They probably chose a poor target; since the gas tax is mixed in with the cost of a gallon of gas, it's not especially noticeable, nor is it really large enough to get people's blood boiling. Put another way, folks tend to be angrier about paying $50 in income taxes, than they are paying 50 cents in taxes 100 times, even if it's the same amount of money. Beyond that, California's roadways are already overused and under-maintained, and the problem has only gotten worse as cars have grown more efficient (meaning less tax collected per mile driven). If there's one thing Californians are OK paying taxes for, it's their freeways. In any event, the gas tax proposition (Prop 6) is underwater by 7 points (41%-48%), and is trending downward. So, the state GOP is bracing for much lower turnout than they were hoping for. That won't matter much for the statewide offices, which are all going to be won by Democrats anyhow, but it could affect a few House races. (Z)
Here's the roundup of this week's Senate news:
And there you go. We're in touch, so you be in touch. (Z)
We've done a number of frontrunners or near-frontrunners in the past month or so, now let's do someone who's a somewhat longer shot. As always, the pros and cons refer to the general election, and not the primaries.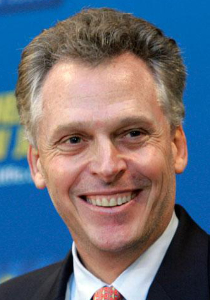 Full Name

: Terence Richard "Terry" McAuliffe



Age on January 20, 2021

: 63 (though he will turn 64 three weeks later)



Background

: Born in New York, McAuliffe has politics in the blood, as his father was a county-level Democratic functionary and his mother a frequent volunteer for the Party. He showed an entrepreneurial bent from an early age, starting a driveway-resurfacing business at 14. After taking his BA at Catholic University and his law degree at Georgetown, he started a law firm, a bank, and an investment business in short order. Through these entities, mostly his investment business, he is now a millionaire many times over.



Political Experience

: McAuliffe started his rise up the ranks of the Democratic Party very early. He jumped on board the S.S. Jimmy Carter at a time when most folks saw the peanut farmer as nothing more than a hick from the backcountry, and at 23 was named the campaign's national finance director. Given his moneymaking skills, he performed brilliantly in the job, returning to his business career after the election, though also helping the Democrats to raise funds whenever needed. He expanded his business and political networks simultaneously over the next decade-and-a-half, bragging that he had over 18,000 names in his Rolodex, and eventually became close with another promising Southern politician that other folks wrote off a bit too quickly. When Bill Clinton officially entered the 1992 presidential race, he put McAuliffe in charge of fundraising, and then in 1996 made him co-chair of the reelection campaign. In 2000, McAuliffe was elected DNC chair, serving four years. He took a shot at the Virginia governor's mansion in 2009, came up short, and then prevailed on his second attempt in 2013, serving one term that ended in January of this year.



Signature Issue(s)

: Healthcare. McAuliffe was tooting the "Medicare for All" horn before just about everyone. When his efforts to expand Medicare and Medicaid in Virginia were stymied by GOP legislators, he announced a plan called "A Healthy Virginia," which tried to achieve as much as possible through regulatory changes and executive orders.



Instructive Quote

: "I've met all of my business contacts through politics. It's all interrelated."



Completely Trivial Fact

: McAuliffe once wrestled an alligator in exchange for a $15,000 donation to the Carter campaign. It even made the pages of Life magazine.



Recent News

: McAuliffe has been campaigning vigorously for Democratic candidates this year, particularly those who happen to be running in Iowa, South Carolina, and New Hampshire. While appearing in the latter state this week, a new PAC "coincidentally" announced its existence. Called "Tenaciously Moving for American Change in 2020" (or TMAC, a play on his nickname), its stated purpose is to convince him to run.



Three Biggest Pros

: (1) He won't have any problems raising piles of money; (2) Three of the last four Democrats to win a presidential election were Southerners, and if he can somehow get a sizable vote in that region (enough to take Virginia, North Carolina, and ideally Florida and Georgia), he would effectively be rebuilding the Obama coalition but with a different blueprint; and (3) When it comes to presidential campaigns, he knows how the sausage is made better than just about anybody.



Three Biggest Cons

: (1) McAuliffe is a great "behind the scenes" guy, but is about as bland and vanilla as it gets when he's out in front, and he won't get voters excited; (2) Given his view that the line between politics and business is blurry, there are quite a few questionable moments in his past in which the flow of money may not have been 100% kosher; and (3) Someone who is intimately connected with the Clintons, but does not have Bill's charisma or Hillary's encyclopedic knowledge of policy and foreign affairs, would seem to be the worst of both worlds for the Democratic Party.



Is He Actually Running?

: He is certainly doing everything he needs to do to keep the option open. And it's a fair question whether the new PAC was organized for his benefit, or was organized by him.



Betting Odds

: The books are giving between 50-to-1 and 40-to-1, which implies a 2% to 2.5% chance of landing the nomination.



The Bottom Line

: It's a long shot, surely longer than the odds imply. If the Democrats really want a bland white guy from Virginia with ties to the Clintons, then they should at least go with one who speaks Spanish and pick Sen. Tim Kaine (D-VA).
You can access the list of candidate profiles by clicking on the 2020 Dem candidates link in the menu to the left of the map. (Z)
Email a link to a friend
or share:
---The Votemaster and Zenger