Senate page Jun. 22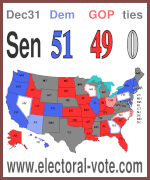 Previous
|
Next
New polls:
Dem pickups: (None)
GOP pickups: (None)
---
Another day of hearings for the 1/6 Committee. If this was a criminal trial, it would be about time for the defendants to start asking about a plea deal, because the evidence being presented is really quite devastating. If you didn't see it, and you'd like to watch, the footage is here:
This session was once again quite lengthy (close to 3 hours). And here are the 10 things that most stood out to us:
Excellent Witnesses

: The Committee has rotated between "lead" questioners over the course of the hearings. It was Chair Bennie Thompson (D-MS) and Vice Chair Liz Cheney (R-WY) for the first hearing, then Rep. Zoe Lofgren (D-CA) for the second, then Rep. Pete Aguilar (D-CA) for the third, and Rep. Adam Schiff (D-CA) yesterday. Schiff is a former prosecutor, presumably knows a few things about selecting and prepping witnesses, and it showed.

Although the committee "heard" from many witnesses yesterday, by virtue of playing video recordings, there were four in-person witnesses, and they were dynamite. Georgia Secretary of State Brad Raffensperger (R) and his deputy Gabe Sterling (R) were the "marquee" names because of their high-profile, public duel with Donald Trump. Arizona House of Representatives Speaker Rusty Bowers (R) spoke at greatest length, and he was clear, concise, and compelling. Wandrea "Shaye" Moss was a Georgia poll worker, and was called to speak to the impact of "Stop the Steal" on regular citizens. In our view, a prosecutor could not ask for a better witness. Her testimony (and that of her mother, Ruby Freeman, who was heard via prerecorded video) was heartfelt, compelling, and clearly truthful. Moss is being described widely as the most impactful witness thus far, and we think there's a strong case for that. (You can see the start of Moss' testimony here, if you would like to judge for yourself.)

Two other things we will point out. After the hearings, CNN's Abby Phillip, who is Black, was in tears. We think it's fair to assume that Moss' testimony speaks to aspects of the Black experience that white folks may not be able to fully understand. Also, people were upset enough about what happened to Moss that several have set up GoFundMe pages to try to help her rebuild her life. We don't yet know if they're legit, of course, but we hope they are, and they've already raised more than $25,000.



Republicans Here, Republicans There, Republicans Everywhere

: Excepting Cheney and Rep. Adam Kinzinger (R-IL), the Committee is all Democrats. This has led to all sorts of complaints from Trump and his enablers that this is just a partisan witch hunt. To counter that, the witness list has been stacked with true-blue (well, true-red) Republicans. We assume that Moss and Freeman are not Republicans, but everyone else who testified yesterday, both in-person and via video, certainly is. And the Committee is making sure to highlight the witnesses' GOP bona fides. For example, during his testimony, Bowers noted that he wanted Trump to win, that he loves Ronald Reagan and that he takes his marching orders from God.



Implausible Deniability

: The Committee is taking potential defenses that Donald Trump might mount and dismantling them, one by one. If this turns into a criminal proceeding, the former president's likeliest defense was that he was unaware of what his underlings were doing, and that he was not directly involved in the scheme to overturn the 2020 election.

So much for plausible deniability. Yesterday, the Committee made abundantly clear that not only was Trump well aware of the whole scheme, he directly participated in efforts to apply pressure to officeholders in swing states. Raffensperger confirmed this and so too did Bowers. Those men can speak firsthand, since they were the officeholders whose arms Trump tried to twist. Bowers also addressed the various ways in which Trump misrepresented their conversation when speaking publicly about it. The implication, which was left to the viewer to infer, was that Trump knew he'd done wrong and was trying to rewrite the story to save his own skin.



Phony Phone Calls

: It is pretty strong stuff to have firsthand witnesses testify to what Trump was up to. It's even stronger stuff when it's backed with A/V. And yesterday, the committee played numerous clips of Trump's phone calls to state officials in which the then-president railed against the election results and demanded that he be declared victorious. Richard Nixon was done in, in the end, by just one recording. Trump carelessly left himself exposed on multiple recordings. Oh, and documentary filmmaker Alex Holder, who was granted extensive access to the Trump White House, has just agreed to turn his footage over to the 1/6 Committee. Recall that Nixon became careless because it was easy to forget the tape recorders were rolling. One wonders what Trump might have said at those times he forgot the video cameras were rolling.



Lots of Theories, Little Evidence

: This is, perhaps, the most memorable single line from yesterday's hearing. Discussing his interactions with Trump lawyer Rudy Giuliani, Bowers said that he demanded proof of the claims coming from the White House. Let's quote the next part of Bowers' testimony directly:

My recollection, he said, "We've got lots of theories, we just don't have the evidence." And I don't know if that was a gaffe or maybe he didn't think through what he said, but both myself and others in my group ... both remember that specifically, and afterwards we kind of laughed about it

Not only does this make Giuliani look like a damn fool, it also underscores that Team Trump put the horse before the cart, and that they were in search of a specific outcome, not in search of any sort of truth. As Sherlock Holmes once observed: "It is a capital mistake to theorize before one has data. Insensibly one begins to twist facts to suit theories, instead of theories to suit facts."

And thus marks the only time that Rudy Giuliani and Sherlock Holmes have ever been mentioned in the same paragraph.



Tears of a Clown

: Continuing with Giuliani a bit more, we previously suggested that he's being made into the court jester of the Trump White House—the comic relief, if you will (we specifically compared him to Yorick, from Hamlet). Yesterday's hearing certainly continued the trend. The stuff about theories without evidence was pretty bad, but perhaps even more embarrassing was the discussion of the claim made by Giuliani about Moss and her mother:

The tape earlier in the day of Ruby Freeman and Shaye Freeman Moss and one other gentleman, quite obviously surreptitiously passing around USB ports as if they're vials of heroin or cocaine. I mean it's obvious to anyone who is a criminal investigator or a prosecutor, they are engaged in surreptitious, illegal activity that day, again that day And after a week ago, they're still walking around Georgia lying.

Moss and Freeman are Black, and the racist subtext couldn't be plainer here. We'll address that a bit more below, but for now note the remark about USB ports. They did not note it during the hearing, perhaps because it's a bit of inside baseball for the computer savvy, but let us point out that you can use any of the following terms for that hypothetical device: USB drive, thumb drive, jump drive, flash drive, keychain drive, data stick, pen drive, removable storage, key drive, or portable drive (among others). What you cannot do is call it a USB port. A USB port is what the drive plugs in to, it is not the drive itself.

What they did note during the hearings is what Moss actually was passing to her mother. It wasn't a USB drive, or any other form of technical equipment. What was it? A ginger mint. If our site played sound, we'd be playing "Entrance of the Gladiators," right now, which was supposed to be a serious military march (as its title indicates), but is now better known as "The Circus Song" because of whose entry it is actually played for.



Johnson Is a Di**

: We organize these write-ups so they appear in a roughly logical order, based on the points being made. So, don't infer too much from the fact that this is seventh on the list; it was actually one of the most significant revelations of the day yesterday. In short, working through an aide, Sen. Ron Johnson (R-WI) tried to feed then-VP Mike Pence phony sets of electors for Michigan and Wisconsin as Pence sat on the dais on 1/6. Note that these phony lists had not been submitted to the National Archives, so there is no way to claim that the Senator thought they were legitimate.

In our view, Johnson should be expelled from the Senate immediately. He actively tried to subvert a presidential election while on the floor of the House of Representatives. He won't be expelled, of course, but he should be. Reporters tried to get Johnson to account for himself but, as he rushed from the Senate chamber to his car yesterday, he said he was on the phone. "No you're not," said one reporter. "I can see your screen."

Johnson's would-be Democratic opponents are already hitting him hard over this, as well they should. He was already a poor fit for Wisconsin, but this may have pushed that state above Pennsylvania on the list of the Democrats' best pickup opportunities in 2022.



So Is Biggs

: As long as we're at it, Rep. Andy Biggs (R-AZ) is also under the microscope now. Bowers revealed that the Congressman called him on the morning of January 6 and tried to get him to decertify the election results.



The Human Cost

: This is another very important point that you should not discount just because it appears ninth on the list. Some of the very most gripping testimony came as all four of the in-person witnesses (as well as Ruby Freeman) spoke to how very much their lives were harmed by the rhetoric from Trump, Giuliani, et al. Each of them was doxxed, each of them received a metric ton of vitriol, each of them saw their lives threatened multiple times. Moss and Freeman, given that they are Black, given Giuliani's dog bullhorn, and given that they are in the South, also got a heaping portion of racism on top of all that. Moss further revealed that she had to go into hiding for several months, that she gained 60 pounds, that she stopped giving out her business card, and that she does not like to give her name in public (say, while ordering at a restaurant) for fear she'll be identified by a Trump supporter.



The Danger Is Still with Us

: A theme that was not especially present in the first two hearings, but that has been emphasized since then, is that this is not just about past threats to the democracy, it's about future threats, too. "The lie hasn't gone away. It's corrupting our democratic institutions," observed Thompson in his opening statement, while specifically pointing out the example of Couy Griffin in New Mexico, and noting how dangerous it is for people to be able to reject election results simply because they don't like the outcome.
That's our take. We'll do it again in about 48 hours. (Z)
In case yesterday's 1/6 Committee hearing didn't have enough unhappy news for Donald Trump, the dominant theme of the election results from yesterday—in Georgia, Virginia, Alabama, Arkansas, and D.C.—was that he got smacked upside the head, numerous times. Here are the main storylines:
Sen. Britt

: Katie Britt, who was handpicked by Sen. Richard Shelby (R-AL) as his successor, will indeed replace him. In yesterday's primary runoff, she crushed Rep. Mo Brooks (R-AL), taking 63.0% of the vote to Brooks' 37.0%. It is true that Britt will still have to defeat Democrat Will Boyd in the general election, but c'mon. The Deep South has been a one-party region for nearly 200 years. And while it's true that Doug Jones managed to get elected to the Senate from that state just a few years ago, we seriously doubt Britt has a well-documented history of pursuing romantic relationships with people not of legal age.

We imagine that Donald Trump will claim this is a victory, since he technically did endorse Britt, but nobody will take that seriously. His "support" was announced less than two weeks ago, clearly had nothing to do with the landslide win, and just as clearly was calculated to improve his "batting average." Indeed, we would argue this is actually a loss for him, as Britt is not very Trumpy, paid no price for failing to embrace "stop the steal," and now has 6 years before she has to think about reelection, by which point his political career will have reached its conclusion (along with, quite possibly, his oxygen habit). Britt is not likely to become the next Liz Cheney, but if the Republican Party is somehow going to course correct away from Trumpism, Britt could be in the vanguard.



Georgia Just Doesn't Like Trump

: Alabama was the biggest story of the night, given that a U.S. Senate seat hung in the balance, but it was in neighboring Georgia where Trump really took his lumps. In GA-06, Trump gave his support to Jake Evans (R). In yesterday's runoff, Evans collected a paltry 33.5% of the vote, falling to former Marine Rich McCormack (who, of course, got the other 66.5%). GA-10 was even uglier for the former president, as his candidate, Vernon Jones (R), got just 25.5% of the vote. The staff mathematician tells us that's just one vote in four, which means Jones' opponent, trucker Mike Collins, got three votes out of four. In short, in both races, Trump's endorsement not only failed to create a winner, it failed to keep things remotely close. The same happened in the races that never even made it to a runoff, notably those for governor and secretary of state. It's possible that some of these votes for non-Trump candidates are coming from Democrats, since Georgia is an open primary state, but most of the voters who are rejecting Trump's picks are Republicans. Not a good sign for his 2024 aspirations.



Two Other House Races in Georgia

: Donald Trump involved himself in two of the Republican House races that went to runoff; there were two others he stayed out of. The GOP establishment badly wanted Jeremy Hunt (R), a Black West Point graduate, to face off against Rep. Sanford Bishop (D) in the majority-Black GA-02. Instead, Hunt was narrowly defeated by a white guy, Chris West (51.3% to 48.7%). Thanks to establishment support, Hunt outspent West 10-to-1; fat lot of good that did him. If the Republicans really wanted Hunt, they should have persuaded Donald Trump to endorse West. That would have been cheaper and more effective than spending all that money. Anyhow, West is the guy, and presumably that means Bishop has an excellent chance to hold on to the D+6 district.

Meanwhile, in GA-07, Rep. Lucy McBath (D) learned who she will face in November. It's Mark Gonsalves (R), who easily defeated Michael Corbin, 70.1% to 29.9%. Gonsalves is quite Trumpy, excepting that he isn't a fan of "Stop the Steal." McBath already survived a rough primary against a fellow sitting member (Carolyn Bordeaux), and now she'll have to work hard to hold on in the R+2 district.



Virginia House Races Set

: It wasn't only in Georgia where sitting Democrats found out the identities of their November foes. In VA-02, which is R+1 under the new maps, Rep. Elaine Luria (D) will face state Sen. Jen Kiggans (R), who is closely aligned with Gov. Glenn Youngkin (R-VA). Kiggans has, like many Republicans this cycle, built her campaign around protecting gun rights. We'll see if she, and the others, stick with that as they pivot for the general.

And over in VA-07, which is R+3 under the new map, Rep. Abigail Spanberger (D) will match up against Yesli Vega (R), who is a sheriff's deputy and was chair of Latinos for Youngkin. Spanberger's district might be slightly red, but it's actually less red than it was, so she's certainly capable of winning this. VA-07 is 7.3% Latino, in case you are wondering, so it is unlikely that identity politics will work significantly to Vega's advantage.

Finally, there is VA-08, which is D+27. Rep. Don Beyer (D), who is pretty moderate, had not faced a primary challenge in his four previous runs for this seat. This time, he got one from the left in the person of 30-year-old tech industry vet Victoria Virasingh. Her appearance and her last name make very clear that Virasingh is at least partly of Indian descent (her father is a Punjabi Sikh). However, her design team made sure to remind everyone that she's also part Latina (her mother is Ecuadorean):



We have to assume this was inspired by the logo of Alexandria Ocasio-Cortez (D-NY)



The branding, while well-executed, didn't help much, as Virasingh was trounced by Beyer, 77.3% to 22.7%. Beyer will now cruise to reelection in the general election; he's never won less than 63% of the vote in the general and he got 76% in his last reelection bid.



Threepeat in D.C.

: D.C. Mayor Muriel Bowser (D) drew several challengers from the left, but she ran a "time to get tough on crime" campaign, and she won renomination easily yesterday, taking 50% of the vote. Her closest competitor, Robert White, took 38.6%

The nation's capitol has a PVI of D+43, which tells you two things. The first is that, under current circumstances, Democrats everywhere need to run on "tough on crime" platforms. If defund the police, or anything that even has a faint whiff of defund the police, is not getting it done in Minneapolis, and is not getting it done in San Francisco, and is not getting it done in Washington, D.C., it's not going to fly anywhere.

The second is that the Republican candidate in the race, Stacia Hall, is going to be crushed in November. Hall is running a "tough on crime" campaign of her own, and maybe that might have made some headway against one of the lefties who lost yesterday, but it's not going to work against Bowser. It's probably also worth noting that since the office of Mayor of Washington, D.C. was established in 1975, it's never been held by a Republican. When Bowser wins in November, she'll become the second three-term mayor of the District, following Marion Barry. Hopefully she learns the key lesson of his mayoralty, which is: Don't let the FBI catch you with hookers and crack.
That's actually a fair bit of interesting stuff given the relatively limited number of elections yesterday. And next week, as we have noted multiple times, is going to be big: Colorado, Illinois, New York, Oklahoma and Utah. Have the Flying Elvises (Utah chapter) made their endorsements yet? (Z)
Last week, the chances of any sort of gun legislation getting through the Senate seemed very low. But maybe there really are 65 or so members who think the country has a problem. Or maybe there are 65 or so members who don't want to be attacked, the next time they run for office, for doing nothing. Whatever the case may be, the senators unveiled an 80-page bill yesterday. Here's what's in it:
Tougher background checks for those 18-21

: If someone under 21 wanted to purchase a gun, they would not only have to wait 3 days (an already existing rule), they would have to have no juvenile criminal record (the new rule). This, of course, would not have stopped what happened in Buffalo or Uvalde, since those shooters had no criminal record. Oh, and this provision would sundown in 2032. So, it's hard to get too excited about it.



No more "boyfriend" loophole

: Currently, if you are married to someone, or if you share a child with them, and you are convicted of domestic violence against them, you can't get a gun for 5 years after the conviction. The new bill would extend that to people who are in romantic relationships, but are not married and who don't have kids with their partner. Maybe we're crazy, but here's a thought: How about all domestic violence convictions come with a 5-year ban (or, even better, a 10-year ban)? How does it make any sense that it only matters if the target is a romantic partner? And exactly how are they going to prove whether or not someone was a boyfriend or a girlfriend?



Expansion of mental health services

: Good step, though the expansion would be pretty limited, and would mostly involve encouraging states that want to expand such services.



Money for red flag laws and other state programs

: States would be given money to combat gun violence, and one thing they would be allowed to spend the money on is enforcement of red flag laws. The careful reader will note that this is far short of a federal red flag law. And Sen. John Cornyn (R-TX) has already made clear that the money will not be available for red flag laws if there are not "significant" due process protections in the bill. In short, at best, a few more states will end up with red flag laws, and those laws will be pretty wishy-washy.



Easier to crack down on straw purchasers, gun runners

: Federal prosecutors would have greater leeway to go after people accused of purchasing guns for those who should not have them, or for smuggling guns to places where they should not be.



Who is a dealer?

: The bill has some verbiage that attempts to make it harder for people to buy and sell large numbers of guns without a license. Reading it over, we think the provisions will be pretty easily subverted.
As you can presumably tell, we are rather underwhelmed by the proposal. We've written, several times, that something is better than nothing, but this particular something is barely more than nothing, given how very much the bill accommodates the wishes of the NRA and other gun lobbies.
Still, it does look like the bill will be able to secure passage. It cleared a key procedural vote yesterday, with 14 Republican senators joining the independents and Democrats. That, of course, is enough to break a filibuster. So, if all 64 who were on board yesterday remain on board, then it will go to the House next, and then presumably to Joe Biden for his signature. (Z)
At 2:00 ET today, Joe Biden will deliver remarks on the nation's spiraling gas prices. Undoubtedly, part of his time will be spent explaining why prices are spiking, and how controlling the petroleum economy is largely beyond the powers of mortal man, even if that man is President of the United States. However, he is also expected to call for a suspension of the federal gas tax (and, possibly, of state gas taxes).
This is an attempt to do something to help lessen the pinch that people are feeling at the pump. However, it's like bringing a butter knife to a sword fight. The current average price for a gallon of gas, nationwide, is $4.96. The federal gas tax is 18 cents per gallon. It is unlikely that most people are going to breathe a sigh of relief if prices drop from $4.96 to $4.78. Even if we consider a 20-gallon tank, that means that the cost of a fill-up drops from $99.20 to $95.60. Undoubtedly, it's better to have that $3.60 in your pocket than not, but it's not like that will be the difference between making rent or not this month.
Another problem is that the gas tax cannot be changed by executive order; it would require action from Congress. And even Congressional Democrats are not especially enthusiastic about the idea, believing that the net effect of the change would not be to put money back in people's hands, but instead to allows gas producers to increase prices and to soak up some extra money.
Biden knows all of this, so we have to imagine that the proposal is really just for show, so that he can claim to be doing something, and Democrats running for reelection can claim to be doing something, as much as is possible. Probably the best-case scenario for the blue team is that a "gas tax holiday" bill passes the House and then is quashed by the filibuster. Then, the Democrats could campaign on "Apparently, Republicans want you to pay sky-high gas prices." But even that would be a pretty thin "victory." (Z)
There are some Republicans who could kill a person in public—or try to blackmail the leader of Ukraine, or encourage an insurrection against the United States—and avoid removal from office. Now-former South Dakota AG Jason Ravnsborg (R) is not among them, however. He was impeached on two counts related to a fatal drunk-driving crash in which a man lost his life, followed by a pretty clumsy effort at a cover-up. And yesterday, Ravnsborg was convicted, removed from his post, and barred from ever again holding public office in South Dakota.
There are 32 Republicans and 3 Democrats in the South Dakota Senate; 24 of them voted to convict on the first count (committing a crime that caused someone's death), 31 voted to convict on the second count (abuse of power) and all 35 voted to disqualify Ravnsborg from future officeholding. It would seem that "wrong" is "wrong," regardless of party, unless the wrongdoer happens to command the undying loyalty of 50 million or so voters. (Z)
Previous
|
Next
Back to the main page